Its undisputed advantages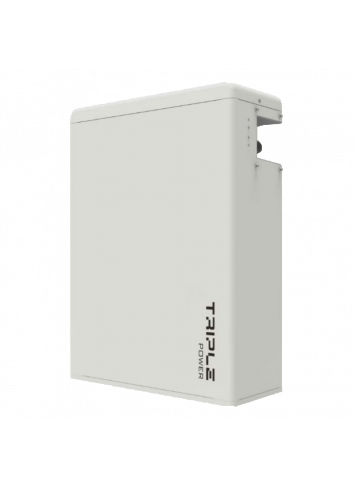 Lithium battery
Lithium technology allows the battery not to experience the effect of charge memory (the battery can be discharged at 100%). This technology in relation to lead has many advantages. A longer life (about 20 years), lighter, less bulky and especially no maintenance is to be done.
100% of max discharge
The TRIPLE POWER battery H5.8 has the best discharge rate on the market. Indeed are discharge rate is 100%. So you can discharge up to 5800 Wh.
6000 cycles of life
With an average of 250 cycles per year, the TRIPLE POWER battery H5.8 has a life expectancy of more than 20 years.
High output power
The strength of this high voltage TRIPLE POWER battery H5.8 allows you to have an output power coming this up to 4000W. Thanks to high voltage operation (up to 450V by connecting several batteries in series) this battery offers you the possibility to make self-consumption storage on high power in the evening or in the morning.
Refined and light
Thanks to its lithium technology, this battery is less bulky and lighter than lead-acid batteries. Operating temperatures between 0 ° C and 40 ° C ensure optimum use regardless of where they are stored.
Technical data
Height x Length x Depth:

708 x 474 x 173mm

Efficiency max:

99% (25°C)

Battery Type:

Lithium

Charge and discharge power:

4000W

Battery operating voltage:

100-131V

Number of Cycles:

6000

Discharge rate:

100%

Warranty product:

10 years
What our customers say
Be the first to write your review !