Its undisputed advantages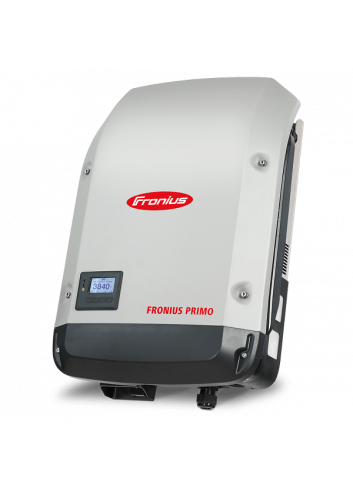 High Efficiency 97.6%
The FRONIUS Inverter Primo 3.0-1 has one of the best efficiency on the market, even on partially shaded installations. Its wide range of voltage allows to produce electricity at any time of the day even in shaving sunshine (very early in the morning and late at night).
Wi-Fi supervision included and free of charge
The FRONIUS Inverter Primo 3.0-1 is equipped with WIFI Internet monitoring, which makes it possible to check the correct functioning of the solar panels at any time. The data is sent to our servers and thanks to the application on mobile and tablet, you follow in real time the performance and performance of your solar installation. 
Quick installation
The particularity of the FRONIUS Primo 3.0-1 inverter is its ease of installation. It has a removable cover that allows to install it extremely quickly. You have easy access to make connections and various auxiliary connections.
Monophase inverter
This FRONIUS Primo 3.0-1 inverter connects at home with the monophase.
Smart Grid Ready
This FRONIUS inverter is equipped with the SMART GRID READY which allows to manage the injection of your solar panels in the electricity grid. You can set the over power injected. The SMART GRID READY communicates with the electricity grid management (use in the near future) to choose the power injected.
Technical data
MPPT Range:

200 - 800V

Start voltage:

80V

Input current max:

12A / 12A

Height x Length x Depth:

645 x 431 x 204mm

Efficiency max:

97.6%

MPPT Tracker:

2

Injection:

Single phase

Internet connexion:

RS485 + Ethernet + USB + Wifi

Warranty product:

7 years
What our customers say
Be the first to write your review !