Its undisputed advantages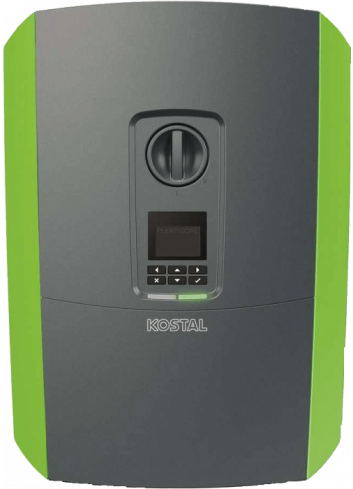 Internet supervision included and free
The KOSTAL Plenticore Plus 8.5 inverter is equipped with Internet monitoring, which allows the solar panels to be checked at any time. The data is sent to KOSTAL servers and thanks to the application on mobile and tablet, you follow in real time the performance and performance of your solar installation.
Integrated battery management
The KOSTAL Plenticore Plus 8.5 inverter has integrated battery management. This inverter has 3 inputs. It is an evolutionary solution. You can connect the first 2 inputs to solar panels, and the third input to batteries. You can also use the 2 inputs for solar panels without connecting batteries. This solution will offer you to upgrade your solar installation to your storage solution in future. The idea is to start without a battery with a single input and then add batteries.
By connecting the KOSTAL three-phase meter, you can regulate the output power of the inverter. You limit the power output so as not to inject the surplus into the power grid.
Quick installation
The KOSTAL Plenticore Plus 8.5 inverter is very light and fast to install. It is enough to connect on his ethernet to be able to parameter this one. Its light mass allows to install it to one person. The connection of solar panels and batteries is simply made by MC4 connector provides with the inverter.
Tree-phase inverter
This KOSTAL inverter connects to the home with the tree-phase connexion.
Technical data
MPPT Range:

120...760V

Start voltage:

150V

Input current max:

13A / 13A / 13A

Height x Length x Depth:

563 x 405 x 233mm

Efficiency max:

97.1%

MPPT Tracker:

3

Injection:

Three phase

Max. input power:

12750W

Internet connexion:

RS485 + Ethernet + USB

Warranty product:

7 years
What our customers say
Be the first to write your review !