Its undisputed advantages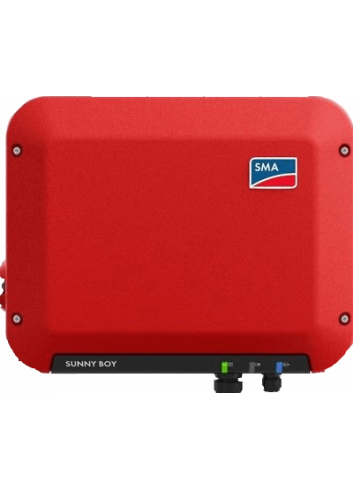 High Efficiency 97.2%
The SMA Inverter Sunny boy 2.5TL inverter has one of the best efficiency on the market, even on partially shaded installations. Its wide range of voltage allows to produce electricity at any time of the day even in shaving sunshine (very early in the morning and late at night).
Wi-Fi supervision included and free of charge
The SMA Inverter Sunny boy 2.5TL is equipped with WIFI Internet monitoring, which makes it possible to check the correct functioning of the solar panels at any time. The data is sent to our servers and thanks to the application on mobile and tablet, you follow in real time the performance and performance of your solar installation. 
Quick start
The SMA Inverter Sunny boy 2.5TL is quick start-up. It has one of the lowest starting voltages in its class which allows to produce energy from the first rays of the sun. You optimize your production by 5%.
Single phase inverter
this SMA Inverter Sunny boy 2.5TL connects at home with the single-phase.
Technical data
MPPT Range:

55...380V

Start voltage:

55V

Input current max:

10A

Height x Length x Depth:

248X350X124mm

Efficiency max:

97.1%

MPPT Tracker:

1

Injection:

Single phase

Max. input power:

3000W

Internet connexion:

RS485 + Ethernet + USB + Wifi

Warranty product:

5 Years
What our customers say
Be the first to write your review !