Its undisputed advantages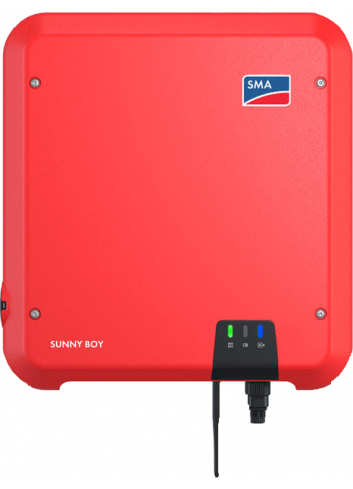 Wi-Fi supervision included and free
The Sunny Boy SB 3.6 SMA inverter is equipped with WIFI Internet monitoring, which allows the solar panels to be checked at any time. The data is sent to SMA servers and thanks to the application on mobile and tablet, you follow in real time the performance and performance of your solar installation.
Management of consumables remotely
The SMA Sunny Boy SB 3.6 inverter communicates with the Edimax electrical outlets that allow you to remotely activate your consumables. For example, if the power of your solar panels is sufficient to supply your hot water (cumulus electrique), you activate it automatically via the SMA Portal interface (definition of an automatic setpoint or manually remote).
Pre-connected with Sunny Boy Storage
The SMA Sunny Boy SB 3.6 inverter is pre-connected with the Sunny Boy storage to add batteries to your home. Indeed, the communication between the 2 inverters is configured to work together. This inverter allows you to upgrade your self-consumption installation to storage.
Quick installation
The SMA Sunny Boy SB 3.6 inverter is very light and fast to install. It is enough to connect on his wifi to be able to parameter this one. Its light mass allows to install it to one person.
Single phase inverter
This SMA Sunny Boy SB 3.6 inverter connects to the home with the single-phase connexion. 
Technical data
MPPT Range:

110...500V

Start voltage:

100V

Input current max:

15A / 15A

Height x Length x Depth:

435x470x176mm

Efficiency max:

97.0%

MPPT Tracker:

2

Injection:

Single phase

Max. input power:

4500W

Internet connexion:

RS485 + Ethernet + USB + Wifi

Warranty product:

5 Years
What our customers say
Be the first to write your review !