Its undisputed advantages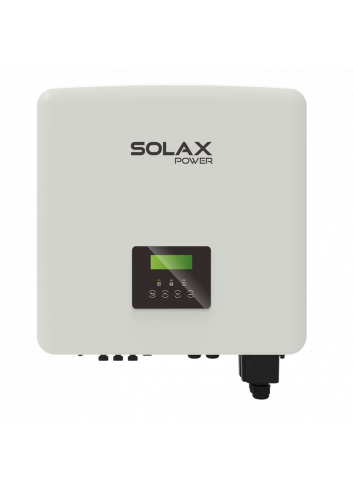 Connection with high voltage battery
The Solax X3 Hybrid 12.0 G4 inverter works with high voltage batteries. High voltage batteries allow high discharge power up to 12000W instantaneous. You can answer a high power electricity need via your solar batteries in the evening or in the morning, without using the electricity network.
Wifi Internet monitoring
The Solax X3 Hybrid Inverter inverter is equipped with Internet WIFI supervision at any time. The data is sent to Solax Cloud. Thanks to the application on mobile, you monitor in real time the performance of your solar installation.
Scalable installation
The Solax X3 Hybrid is ideal for a first installation or for the evolution of an existing photovoltaic installation. You begin the installation without battery and add the TRIPLE POWER batteries, and even increase the storage of these batteries according to your real need.
Off grid management
This inverter work with or without electricity grid without any problem.
Three-phase inverter
This Solax inverter connects at home with the three-phase network. So you can make self-consumption with Solax inverters.
Technical data
MPPT Range:

180...950V

Start voltage:

180V

Input current max:

30A / 16A

Height x Length x Depth:

503 x 503 x 199mm

Efficiency max:

97.6%

MPPT Tracker:

2

Injection:

Three phase

Max. input power:

18000W

Charge and discharge power:

12000W

Internet connexion:

RS485 + Ethernet + USB + Wifi

Warranty product:

10 years
What our customers say
Be the first to write your review !