Its undisputed advantages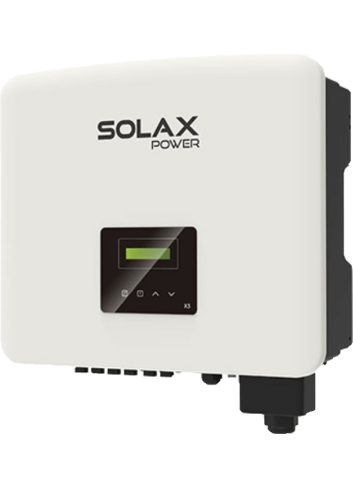 Management of the injection overproducted into grid
Smart Inverter, SOLAX X3-PRO 30kW inverter regulates the power of solar panels to provide only the real need. Thus any export production are no longer re-injected into the electricity grid free.
Wi-Fi supervision included and free
The SOLAX X3-PRO 30kW inverter is equipped with WIFI Internet monitoring, which ensures that the solar panels operate at all times. The data is sent to our servers and thanks to the application on mobile and tablet, you follow in real time the performance and performance of your solar installation.
Integrated consumables management
The SOLAX X3-PRO 30kW inverter is ideal for all photovoltaic installations dedicated to self-consumption. Electrical consumables are managed remotely through an application. Either we define an automatic strategy according to the production of solar panels or manually. (Example: programming washing cycles every day at 14h if the production of solar panels exceeds 500W).
Quick start
The rapid start-up of the SOLAX X3-PRO 30kW inverter enables a significant performance gain for photovoltaic systems equipped with this inverter. Upon switching on, the inverter rapidly transforms the energy produced into electricity.
Three-phase inverter
This SOLAX X3-PRO 30kW inverter connects to the three-phase grid at home.
Technical data
MPPT Range:

160...980V

Start voltage:

200V

Input current max:

40A / 40A / 40A

Height x Length x Depth:

534 x 419 x 201mm

Efficiency max:

98.6%

MPPT Tracker:

3

Injection:

Three phase

Max. input power:

39000W

Internet connexion:

RS485 + Ethernet + USB + Wifi

Warranty product:

10 years
What our customers say
Be the first to write your review !