Its undisputed advantages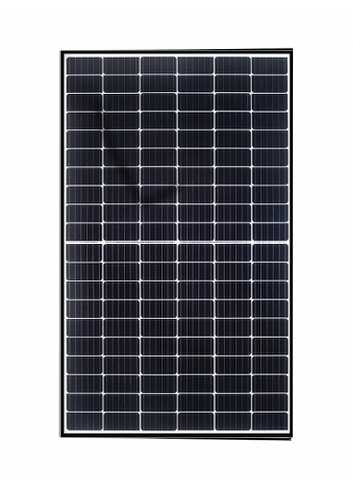 Simple and fast installation
This solar panel is easy to install and fits perfectly to all types of roof: tile, steel tank, pergola, garden shed. Its high surface yield allows it to suit the surface even the smallest.
Aesthetics solution
This solar panel has a sober and uncluttered style. Its black color on a black background fits and blends perfectly with your roof. It has been designed and designed to integrate perfectly with all roofs for an elegant effect every time.
High efficiency
Thanks to its monocrystalline cells, you enjoy high efficiency and maximum power on your roof. This solar panel gives you 20.61% more energy per nominal watt installed.
Monocrystalline cells
Monocrystalline cells can produce more power with a low sun or grazing. Opt for a powerful solar panel even in low light conditions on cloudy days and in the morning as well as in the evening. The cells are ideal for installations with small and medium-sized photovoltaic panels and are ideal for the middle or north of Europe. These panels are also ideal for low slope roofs.
100% European quality
Our I'M SOLAR products relies on ISO 9001 and ISO 14001 certifications, placing quality and performance at the heart of our commitments. Our solar panels are designed, designed, manufactured and tested in our plant in Lithuania, which guarantees you flawless products and better service. Our European factory ensures quality management at every stage of production.
Technical data
Voltage (Voc):

41.4V

Current (Ioc):

11.41A

Height x Length x Depth:

1765 x 1048 x 35mm

Efficiency max:

20.61%

Power:

385W

Cells:

Monocrystalline

Tolerance:

0/+5W

Frame color:

Black

Background color:

White

Warranty product:

30 years

Place of manufacture:

Europa
What our customers say
Be the first to write your review !